Frequently Asked Questions
Frequently asked questions
How much are the lessons?
---
One to One Tuition 20mins - £11.00 30mins - £16.00 45mins - £24.00 60mins - £32.00 Group Tuition 30mins - £9.00 per person for a group of 2 Discounts given to siblings
---
How often are lessons held?
---
Lessons are held weekly during the school term time. Lessons outside these times can be negotiated on a one to one basis.
---
What happens in a music lesson?
---
Whether you are an absolute beginner child or adult, experienced player or keen amateur you are warmly welcomed. In your lessons we can look at technique, musicality, planning your lessons individually to match your goals, interests, needs and abilities. If you are a beginner, you will firstly become familiar with the instrument, by looking at a parts of the violin and bow, how to care for the violin, learning how to hold the violin and bow and introduction to reading music. For the more experienced player, Lucy will start off by talking through your weeks practise sessions; successes and any problems that you have had that you need help with. You can then play through technical exercises and pieces for feedback, advice and encouragment! 'Wrapping up' at the end of the lesson, we will go over what has been covered in your lesson, what to work on for the next lesson, with reminders added to your practise goals for the next week.
---
I don't have a violin - do I need one? Where can I get one?
---
After the first few lessons, you will need your own violin that you can take home and practise on between lessons. (Then you can enjoy the violin at home too!). You can either buy a violin or rent one for a small monthly fee. Renting a violin is a good option if you would like time to consider whether your child/yourself would like to continue learning, rather than buying one straight away. Find a violin that is properly set up with good strings. It can be so discouraging if the violin has been poorly set up or is not in good condition as it won't sound as good, and will be harder for you to play. Specialist violin shops set up violins with good strings to improve their playability and sound. They can make sure bridges are at the right height, pegs turn to make tuning easy, and that the sound post is in a good position. It is also worth getting a good set of strings too, such as Pirasto or Dominant, as these produce a much warmer beautiful tone than the cheaper versions and will last longer. I do have a small selection of violins (with shoulder rests and accessories) for you to try in your first lesson. I can then give you advice on the correct size to rent/buy.
---
What size violin does my child need?
---
For children, it is really important that they have the correct size violin. A violin that is not the right size will be difficult to play on. I can give you advice on this at our first lesson. Violins come in these sizes 1/8 (and even smaller if needed), 1/4, 1/2, 3/4 and Full size. As a guide, a 1/4 size are for children aged 5 - 7, 1/2 size aged 7 - 9, 3/4 size for children aged 9 - 11. Full size from 11 years plus.
---
Can you provide music?
---
Lucy can recommend the music books for you to use for your lessons. We can order music for you to purchase. You will then be invoiced to pay direct to Lucy. Or if you prefer, you can purchase music yourself through high street music shops or online.
---
What other accessories and equipment do I need?
---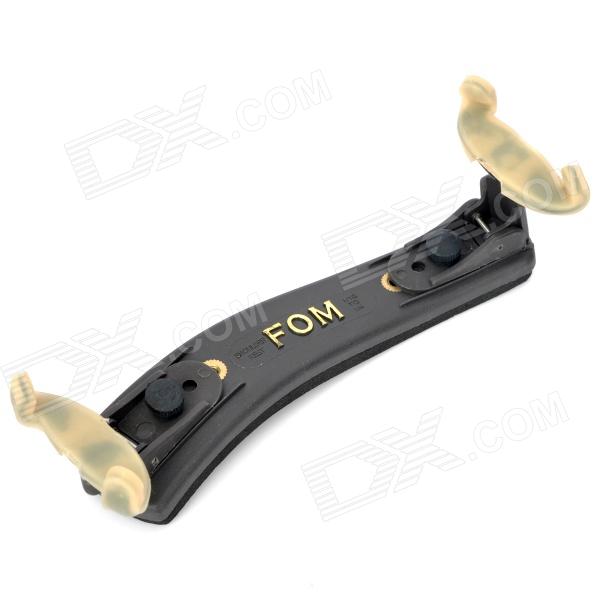 Shoulder Rest - Most people find using a shoulder rest helps them hold the violin with a comfortable posture. You need to find one that is the right size for your instrument, as they come in different sizes. They usually cost between £5.00 - £25.00, but are well worth it. These makes are particulary recommended - Fom, Wolf or Kun Mini. You will also need:
Rosin - this is used to put on the hair of the bow, to help grip the strings and make them speak, enhancing sound production.
A dust cloth - to wipe off the rosin and clean the wood
A note book - so that I can jot down what we have covered in the lesson etc
A music folder/bag - to put all your music and music sheets in.
---
What is the ISM?
---
The ISM is the UK's professional body for Musicians made up of professional performer's, teachers and composers. It was set up in 1882 to promote the importance of music and protect the rights of those working within the music industry. To confirm a members professional status when joining the ISM, members are required to provide references and proof of professional status prior to becoming full members. This means you can be rest assured that you are working with a proven music professional when you have lessons with an ISM member.
---
---